Ad blocker interference detected!
Wikia is a free-to-use site that makes money from advertising. We have a modified experience for viewers using ad blockers

Wikia is not accessible if you've made further modifications. Remove the custom ad blocker rule(s) and the page will load as expected.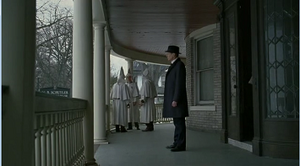 The
W. B. Shuyler Funeral Parlor
is a mortuary in
Atlantic City
,
New Jersey
.
The W. B. Shuyler Funeral Parlor helds the vigil for Ku Klux Klan member Herman Dacus in early February 1921.
Nucky Thompson visits it right after giving two radically different speeches regarding the attack of the Klan on an illegal distillery run by Chalky White, one in front of a black audience and another to a white one. Once there, he is surprised to find Jimmy Darmody among those present. Jimmy tells Nucky that Dacus was one of his high school teachers. Nucky also notices the presence of Leander Cephas Whitlock.
Nucky and Jimmy discuss then the hit on Chalky but Jimmy falsely claims to know nothing about it, as he had left the scene prior to the Klan's arrival. Finally, Nucky congratulates Jimmy on his recent marriage to Angela and tells him to be wary of his father The Commodore, who Nucky considers a deceitful man. ("21")
Appearances
Edit
Season two appearances
21
Ourselves Alone
A Dangerous Maid
What Does the Bee Do?
Gimcrack & Bunkum
The Age of Reason
Peg of Old
Two Boats and a Lifeguard
Battle of the Century
Georgia Peaches
Under God's Power She Flourishes
To the Lost