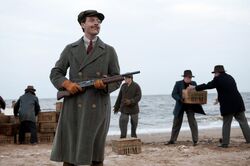 After a long hiatus, Boardwalk Empire is finally coming back for its second season on September 25! Check out some pictures of the premiere episode, titled "21," from TV Fanatic.
What should fans expect from the episode? Lots and lots of problems!
Are you looking forward to the second season? Tell us in the comments!
Gallery
Ad blocker interference detected!
Wikia is a free-to-use site that makes money from advertising. We have a modified experience for viewers using ad blockers

Wikia is not accessible if you've made further modifications. Remove the custom ad blocker rule(s) and the page will load as expected.