I can't believe there is no love for Boardwalk! Its so great! Come back Boardwalkers!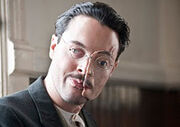 I think my favorite character so far is
Richard Harrow
. He is so intriguing and different. I havn't seen the new episode yet so don't tell me if anything bad happens to him :( I'm always worried with HBO that my favorite characters will get killed off (see True Blood: Gram and Eddie in the first season). Who is your favorite so far?
Ad blocker interference detected!
Wikia is a free-to-use site that makes money from advertising. We have a modified experience for viewers using ad blockers

Wikia is not accessible if you've made further modifications. Remove the custom ad blocker rule(s) and the page will load as expected.