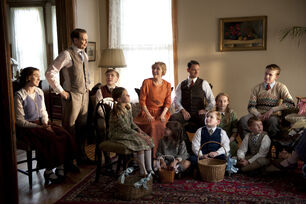 The
Thompson family
is a family featured in the series
Boardwalk Empire
. It is formed by three generations of Catholic Irish-Americans residing in
Atlantic City
, where their male members have traditionally served the
Sheriff's Office
and held the
Atlantic County Sheriff
position at different times. One of them,
Nucky Thompson
, later became
Atlantic County Treasurer
and boss of a
political and criminal organization
controlling Atlantic City as well.
Family members
Edit
Eli's children
Edit
The identity of Eli's children changes between Season 2 and Season 3, making this the first clear breach in continuity in Boardwalk Empire.
In Season 2, Eli's children are first specified to be four sons and four daughters. Only the sons are named on screen. These are, in order, Michael (b. 1909), Patrick (b. 1911), Brian (b. 1913) and Dermott (age unknown, but likely the youngest).
Ad blocker interference detected!
Wikia is a free-to-use site that makes money from advertising. We have a modified experience for viewers using ad blockers

Wikia is not accessible if you've made further modifications. Remove the custom ad blocker rule(s) and the page will load as expected.