Ad blocker interference detected!
Wikia is a free-to-use site that makes money from advertising. We have a modified experience for viewers using ad blockers

Wikia is not accessible if you've made further modifications. Remove the custom ad blocker rule(s) and the page will load as expected.
The
Hotel Manager
, played by co-star
John Mainieri
, is an Atlantic City resident who works for the city's hotels.
He first appeared a supporting character in the series pilot "Boardwalk Empire". He welcomes Big Jim Colosimo and Johnny Torrio to the Brighton Hotel.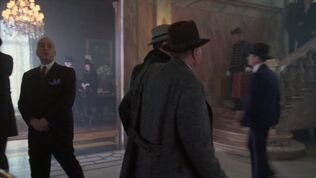 He has begun working for the
Ritz Carlton Hotel
by
Season 2
. The Ritz Carlton is the headquarters of Atlantic City Treasurer
Nucky Thompson
who rents the entire eighth floor. Nucky also puts his associate
Charles Kenneth Thorogood
up in a suite until Thorogood falls out of Nucky's favour. Thorogood is in his suite enjoying the attention of two women when Eddie is let in by the Hotel Manager. Eddie sends the women away and informs Thorogood that Nucky wants him to leave. Thorogood is confused, suspecting a joke, and says that he is not amused. The manager says Thorogood has five minutes to leave and throws his shoes onto the bed, complimenting the footwear as he does so but leaving no further doubt. ("
The Age of Reason
")
Season one appearances
Boardwalk Empire
The Ivory Tower
Broadway Limited
Anastasia
Nights in Ballygran
Family Limitation
Home
Hold Me in Paradise
Belle Femme
The Emerald City
Paris Green
A Return to Normalcy
Season two appearances
21
Ourselves Alone
A Dangerous Maid
What Does the Bee Do?
Gimcrack & Bunkum
The Age of Reason
Peg of Old
Two Boats and a Lifeguard
Battle of the Century
Georgia Peaches
Under God's Power She Flourishes
To the Lost