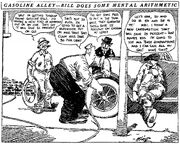 Gasoline Alley
 is a long-running American newspaper comic strip created by Frank King that first debuted in the
Chicago Tribune
in late
1918
.
Unlike in most comic strips, the time in Gasoline Alley passes at a reasonable pace and the characters grow old and eventually die. In its early run the main protagonist was a mechanic named Walt Wallet and most strips consisted of him and his friends Doc, Avery and Bill talking about automobiles. In 1921 Walt adopted a doorstep baby nicknamed "Skeezix", who eventually grew to replace Walt as the main character of the strip.
Season 1
Edit
Jimmy anachronistically references the strip while having breakfast with Angela, Tommy and the cat in January 16, 1920, calling Tommy "Skeezix" a year and a month before the character was first introduced. ("Boardwalk Empire")
Gyp Rosetti jokes "where's Walt Wallet when you need him?" when his car breaks down near Tabor Heights on December 31, 1922. ("Resolution")
Ad blocker interference detected!
Wikia is a free-to-use site that makes money from advertising. We have a modified experience for viewers using ad blockers

Wikia is not accessible if you've made further modifications. Remove the custom ad blocker rule(s) and the page will load as expected.