Ad blocker interference detected!
Wikia is a free-to-use site that makes money from advertising. We have a modified experience for viewers using ad blockers

Wikia is not accessible if you've made further modifications. Remove the custom ad blocker rule(s) and the page will load as expected.
Elenore Thompson (1848-1903) was the wife of Ethan Thompson and the mother of Enoch Thompson, Elias Thompson and Susan Thompson. She is played by actress Erin Dilly in the 5th and final season.
The family are Catholic Irish Americans. Ethan is buried next to her following his death in June 1921. ("Battle of the Century") Eli says that he is with Susan and Elenore in heaven. ("Two Boats and a Lifeguard") Susan died at a young age from consumption and Elenore cared for her throughout her illness. Eli and Nucky felt jealous of the attention their sister got from Elenore. ("Georgia Peaches")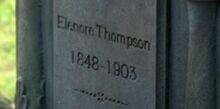 Nucky claims that he was named after an uncle on Elenore's side of the family when asked about his Protestant name. ("Ourselves Alone")  Elenore also had a brother named Clarence. ("Two Boats and a Lifeguard")
=== Appearances
===