Ad blocker interference detected!
Wikia is a free-to-use site that makes money from advertising. We have a modified experience for viewers using ad blockers

Wikia is not accessible if you've made further modifications. Remove the custom ad blocker rule(s) and the page will load as expected.
Dancer 1, played by co-star Kathryn Avery, is a supporting character in the episode "Broadway Limited". She is a friend of Lucy Danziger and dances with Eddie Cantor when he performs in Nucky Thompson's suite at the Ritz Carlton. She recurs later as a dancer at Babette's Supper Club in "21". She is at Babette's again for Jimmy Darmody's victory party in "Two Boats and a Lifeguard".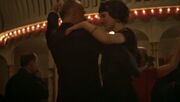 Season one appearances
Boardwalk Empire
The Ivory Tower
Broadway Limited
Anastasia
Nights in Ballygran
Family Limitation
Home
Hold Me in Paradise
Belle Femme
The Emerald City
Paris Green
A Return to Normalcy
Season two appearances
21
Ourselves Alone
A Dangerous Maid
What Does the Bee Do?
Gimcrack & Bunkum
The Age of Reason
Peg of Old
Two Boats and a Lifeguard
Battle of the Century
Georgia Peaches
Under God's Power She Flourishes
To the Lost