Home
Talk

13
1,543pages on
this wiki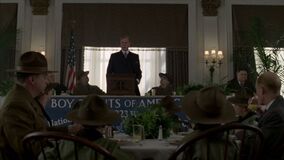 "Ging Gang Goolie" is the sixth episode of the third season of Boardwalk Empire. It is the 30th episode of the series overall. It was written by co-producer Steve Kornacki and directed by Ed Bianchi. It premiered on 21 October 2012.
A fire in the Greenhouse of the Thompson residence draws Owen Sleater and Margaret Thompson back into close proximity. Margaret suspects Teddy given his history and her fears appear to be confirmed when her neighbor catches him in her garage with matches and kerosene. Owen claims to have found and punished a vagrant who was responsible. Margaret confesses her fears to Owen and then re-initiates their affair. Nucky Thompson travels to Washington to deliver a payoff and is perturbed when Gaston Means is not at the agreed place. He confronts Harry Daugherty about his crumbling operation and deduces that Daugherty is intending to make him a scapegoat. Daugherty has Nucky arrested on a trivial charge and he is imprisoned before a hearing at night court. Esther Randolph is the prosecutor but is unable to convince the judge to apply anything other than the standard $5 fine. Nucky suggest that he and Randolph work together against Daugherty, promising her a career case. Means later calls Nucky and offers to facilitate his plan with an introduction. Richard Harrow connects with embittered veteran Paul Sagorsky and his daughter Julia. Gillian Darmody feuds with her business partner Lucky Luciano over his heroin operation. She seduces Roger McAllister, a young man who reminds her of Jimmy.


READ MORE



Here at Boardwalk Empire Wiki, we've got lots to do! Season 3 premiered September 16, 2012 with "Resolution". If you are a fan of Boardwalk Empire, please share your knowledge and passion and help us build the wiki!
What we need currently on the wiki:
The third season brings a wealth of new characters and plots. Check out Talk:Resolution for things you can do to help get us up to date with the premiere.
Add memorable quotes! What's your favorite line so far?
Massive thanks to User:Eljuma for all their work getting us ready for the third season, recapping second season episodes and maintaining the Timeline.
Thanks & Have fun! --Opark 77 (talk) 00:35, September 18, 2012 (UTC)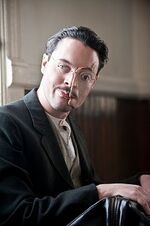 Richard Harrow
was a sharpshooter in the U.S. Army during World War I. A war injury caused substantial damage to the left side of his face; he lost his eye, most of his cheek bone, the left half of his jaw and endured heavy scarring. In order to enter society with the least amount of distress, Harrow covers his scars with a tin plate that was molded to his face and painted to match his skin tone...
READ MORE
Whose storyline are you most looking forward to for Season 3?
SEE MORE
Loading RSS data...
REFRESH
·
READ MORE...
Create blog post
Refresh
Great news, Boardwalk Empire fans, the hit show on HBO has been renewed for a fourth season!!

The network announced that the show "will continue Nucky Thompson's story in 2013." Makes sense that they wo…

Read more >

I started a top 10 list for best current cable drama over at the wikia entertainment hub:

Top 10 list: Current cable dramas

Game of Thrones is leading the voting at the time of writing with my single s…

Read more >
See more >