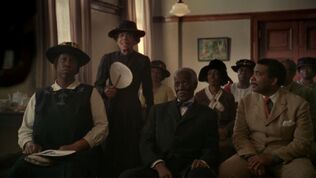 The Bereaved Mother was a supporting character in the episode "What Does the Bee Do?" played by co-star Sidne Anderson. She was the mother of one of Chalky White's bootlegging team. Her son was murdered by the KKK during a raid on Chalky's warehouse. She attends a neighbourhood meeting to demand that Chalky exact revenge for her son's death.
Season two appearances
21
Ourselves Alone
A Dangerous Maid
What Does the Bee Do?
Gimcrack & Bunkum
The Age of Reason
Peg of Old
Two Boats and a Lifeguard
Battle of the Century
Georgia Peaches
Under God's Power She Flourishes
To the Lost
Ad blocker interference detected!
Wikia is a free-to-use site that makes money from advertising. We have a modified experience for viewers using ad blockers

Wikia is not accessible if you've made further modifications. Remove the custom ad blocker rule(s) and the page will load as expected.