Ad blocker interference detected!
Wikia is a free-to-use site that makes money from advertising. We have a modified experience for viewers using ad blockers

Wikia is not accessible if you've made further modifications. Remove the custom ad blocker rule(s) and the page will load as expected.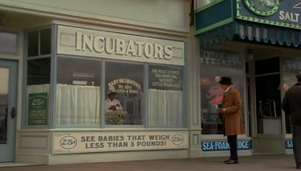 The
Baby Incubators
are a medical facility and sideshow attraction on the
Atlantic City Boardwalk
.
The Incubators were established in 1902 by Dr. Martin Couney, a pioneer in premature care who had founded a similar installation the year before in Coney Island, New York, after years of touring international expositions to show his inventions. The installations financed themselves initially by charging visitors with $1, and later with whatever donation they wished to pay (in the show Boardwalk Empire the entry is shown to be worth 25 cents instead).
Season 1
Edit
Nucky Thompson stops in front of the building and stares at a premature baby being weighted and then placed in an incubator in January 17, 1920. He then walks to the pier to stare at the sea. ("Boardwalk Empire")
Nucky makes a donation to the incubators some days later. Lucy overhears him on the phone and confides to him that the place spooks her, praising his decision to not have children. ("Broadway Limited")
The Incubators are later visited by the Darmody family in August 1920. Jimmy jokes with his son Tommy that he and his mother Angela found him there and took him home after being prepared in one of those "ovens". Tommy replies that he is fooling him. After a laugh, Jimmy leaves Tommy on the ground, and the child runs to the nearby Dittrich Studios. ("The Emerald City")
Prohibition agent Nelson Van Alden is riding a cart in the Atlantic City Boardwalk with his wife Rose for their 13th anniversary when they pass the Baby Incubators. Nelson suggests visiting Lucy the Elephant in Margate, but Rose, distracted by the incubators, does not hear what he says. ("21")
Season one appearances
Boardwalk Empire
The Ivory Tower
Broadway Limited
Anastasia
Nights in Ballygran
Family Limitation
Home
Hold Me in Paradise
Belle Femme
The Emerald City
Paris Green
A Return to Normalcy
Season two appearances
21
Ourselves Alone
A Dangerous Maid
What Does the Bee Do?
Gimcrack & Bunkum
The Age of Reason
Peg of Old
Two Boats and a Lifeguard
Battle of the Century
Georgia Peaches
Under God's Power She Flourishes
To the Lost